… Mandolall, Driffield and Seeram share Player-of-the-Year awardsBy Frederick HalleyTORONTO, Canada – Two former national players, Rovendra Mandolall and Shiv Seeram, along with Richard Driffield, stole the spotlight when Ontario Masters Softball Cricket Club (OMSCC) staged its 17th annual presentation, dinner and dance at the Estate Banquet Hall, Scarborough here on Saturday night.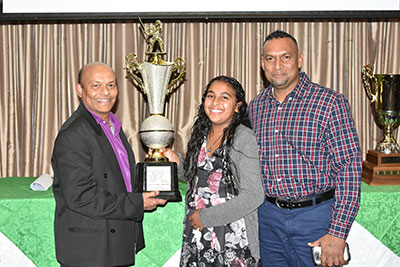 Walter Seenarine (left) of Tropical Breeze hands over Player-of-the-Year trophy to Ronesha Mandolall in the presence of her father and recipient Rovendra Mandolall,Mandolall, a former Under-19 stalwart, who represented Hustlers Sports Club in the Over-40 A Division, copped the award in that division while Driffield of Guyana Sports Club got the nod for his outstanding performances in the B Division. It also marked a second consecutive year for the consistent Mandolall who shared the honour with Our Own's Troy Gobin in 2016.Seeram, who played for both his native Guyana and his adopted country Canada, was supreme in the Over-50 class for Skeldon and was unchallenged for the Player-of-the-Year award.Essequibian Mandolall, who took home the Tropical Breeze-sponsored trophy, was brilliant with both bat and ball, tallying 405 runs with two centuries (109, 102 not out) with a batting average of 135 while capturing 11 wickets including figures of five for nine versus GT Bannas.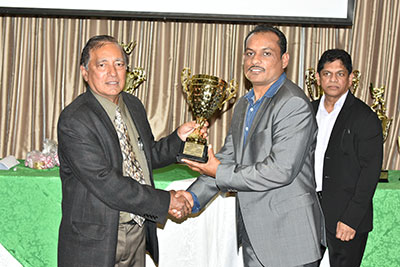 Richard Driffield (right) collects his Player-of-the-Year trophy from OMSCC president Azeem Khan.Not to be outdone, Seeram who recently led the Ontario Masters team to the seventh edition of the Guyana Softball Cup, ended the season with 406 runs, his best knocks being 149 not out against GT Bannas and an undefeated 115 versus Jaguars. He copped a trophy, sponsored by businessman Nirad Lall.The left-handed Driffield, who was awarded the Mike's Auto Collision trophy, totalled a season-best 486 runs which was decorated with a flamboyant 168 against Ramblers and an unbeaten 98 versus Friendship Masters.The Captain-of-the-Year award, introduced for the first time by the OMSCC, and sponsored by Dr Rudy Singh, went to Caribbean Sensation's Over-50 skipper Ganesh Ramraj who led his team to victory over Skeldon in the final.Five players, Mahendra Nauth (Royals), Roopchand Lachman (Pegasus), Rudy Singh (Pegasus), Surendra Beepat (Cougars) and Sunny Ramadhar (Friendship Masters) collected prizes for smashing centuries during the season. Khemraj Budhai (Guyana Sports) and Fazil Rasool (Dirty Dozen) received special awards for averaging 86 and taking seven wickets respectively in the Over-50 division.Terry Mathura of Guyana Sports, who had a fantastic economy rate of 2.67 runs, sending down 18 overs for a mere 48 runs in the Over-40 Division 2, along with Jerry Brittania (Caribbean Sensation) with 2.86 in the Over-50 and Azeez Baksh (Hustlers Sports Club) with 3.38 in the Over-40 Division 1 led the race in that category.Prizes for the most catches during the season went to Khemraj Budhai of Guyana Sports with six in the Over-40 category while Roy Brittania and Azim Kassim of Caribbean Sensation took five each.There were double feat awards for Ahmad Bradshaw (Gentlemen) for scoring 104 not out and 84 and Ganesh Ramraj (Caribbean Sensation/Friendship) for scores of 54 and 77.After failing to reach the final in 2016, Our Own Sports Club bounced back to defeat archrivals Hustlers in a sensational Over-40 division final, played before a record crowd at St Bede's on the final day of the season. Pegasus claimed the Challengers trophy also in the Over-40 segment.The A division Over-40 regular season champions were Hustlers while Guyana Sports topped in the B division.Caribbean Sensation carted off both the regular season as well as the championship titles in the Over-50 division. Essequibo retained the Inter-county title for an unprecedented sixth consecutive year.